NCCOEEE
» NCCOEEE Circular Meeting, 21st October, 2020.
♻ Massive protest of lacs of power employees & Engineers on 18th August,2020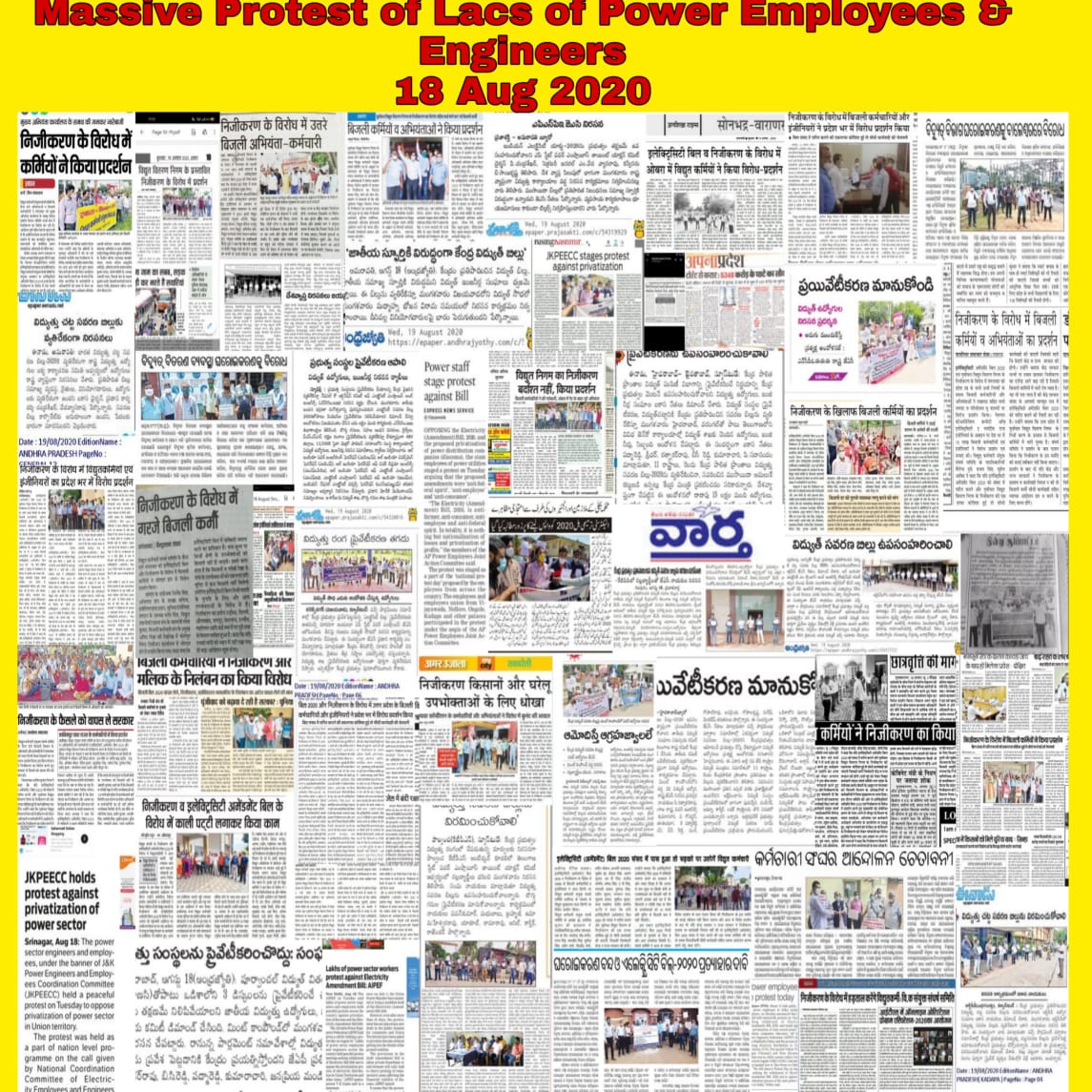 » NCCOEEE Letter ON NATIONAL ENERGY SECURITY DAY
» Letter to CM/MP/MLA's for support towards ensuring access to electricity for poor people and farmers.
» Protest Day Notice to Power Ministser
Press Release on 8th January Strike in Power sector
Workers and Engineers of Electricity industry took part in the strike all over the country in huge number. Workers took part in the strike directly responding to the calls of respective trade unions, while Engineers and Junior Engineers in support of the strike call, boycotted the work at the behest of NCCOEEE, the broad based National platform of Electricity Employees and Engineers.

To what extent the strike was successful or failed cannot be adjudged through statements of the Government or state owned power utilities. Best indicator is power consumption. It has been so far revealed that in last quarter of 2019 power consumption dropped to the extent of 13% in comparison to the similar period of 2018. Modi Charisma did not work in so far power consumption is concerned.

As gathered from different power system load despatch centres all over the country, the mid day system demands in different states on date fell down to the extent of 5 to 20% in comparison to normal January workday.

Northern India states are facing squally weather from winter rain. Thousands of striking workers, Junior Engineers and Engineers have mobilised in front of the state Power utility headquarters and major power installations raising placards and banners of their demands. Magnificent demonstration observed in UP, Punjab, Haryana, Chandigarh and Himachal Pradesh. In Eastern India, Power workers of Odisha and West Bengal took part in the strike including demonstration at different districts. In North east Assam and Tripura had good number participation of Striking Workers, Junior Engineers and Engineers. Strike in Kerala and Tamil Nadu remained massive, while in Karnataka only Contract Workers took part in the Strike. In Western India power workers and Engineers of Maharashtra, Madhya Pradesh and Chhattisgarh took part in the Strike in huge number.

NCCOEEE greets all the members of its constituent organisations for making the Strike a grand success all over the country.

(Prasanta N Chowdhury)

Convener
Cell : 9830264170
» Press Release on 8th January Strike in Power sector.
» "Decisions of NCCOEEE meeting took place at BTR Bhawan, New Delhi on 31st July, 2019."
PRESS RELEASE - NCCOEEE
NCCOEEE National Forum convey warm greetings to all NCCOEEE constituents along with their members across the country for massive participation in the first day (8th January, 2019) of Two Day Strike / Work Boycott against Government's game plan to curb the right to electricity for the rural as well poor people of India through enactment of Electricity (Amendment) Bill, 2018 concurrently supporting the call of two days' General Strike on 8th and 9th January 2019 upon 12 point charter of demand for people of all walks of life, by all central Trade Unions and independent National level Federations of core Industries.

Government's action towards floating the Draft Electricity (Amendment) Bill, 2018 in the public domain for opinion was reciprocated by NCCOEEE on 3rd October, 2018. Formal Notice of Strike / Work Boycott was sent on 10th December, 2018. Only on 3rd January, 2019, Ministry of Power acknowledged the same indicating the Strike as an immature step. Three million workers, employees and engineers of power sector have replied today in a befitting manner. NCCOEEE leadership expect the struggle will be intensified in the second day on 9th January, 2019 and good sense will prevail upon the Government to concede the demands.
(Prasanta N Chowdhury)

Convener
» "Letter addressed to Power Minister, Government of India with endorsement of copies to Prime Minister as well Chief Ministers of states and UTS."
» Declaration of national convention New Delhi 8th June
» CIRCULAR on NATIONAL CONVENTION
GREETINGS TO UP STRUGGLE 10.04.18
Dear Brothers and Comrades,

&nbsp
UP VIDYUT KARMCHARI SANYUKTA SANGHARSH SAMITI FOUGHT A STRUGGLE OF VICTORY. NCCOEEE GREETED THEM. SALIENT POINTS OF CONTENTION, STRUGGLE AND SETTLEMENT ARE APPENDED IN THE CIRCULAR. THIS MAY KINDLY BE CIRCULATED FOR INFORMATION OF ALL ELECTRICITY EMPLOYEES AND ENGINEERS.
&nbsp
REGARDS AND GREETINGS
&nbsp
PRASANTA N CHOWDHURY
NCCOEEE CIRULAR
December 5, 2015 // 0 Comments
NCCOEEE Protest in front of Power Ministers' conference at Kochi, Kerala
November 10, 2015 // 0 Comments
NCCOEEE COMMUNIQUE
August 19, 2015 // 0 Comments
NCCOEEE memorandum with all signatures
July 27, 2015 // 0 Comments
NCCOEEE EASTERN & NORTH EASTERN REGIONAL CONVENTION
July 27, 2015 // 0 Comments
SOUTHERN REGIONAL CONVENTION HELD ON 14TH JULY, 2015
July 24, 2015 // 0 Comments
NCCOEEE SOUTHERN REGIONAL CONVENTION
July 16, 2015 // 0 Comments
One Day Token strike during Monsoon session of Parliament
June 28, 2015 // 0 Comments
NCCOEEE MEETING DECISIONS
June 27, 2015 // 0 Comments
NCCOEEE Northern Regional Convention held on 24th June, 2015
June 25, 2015 // 0 Comments
NCCOEEE National Meeting to be held on 25th June 2015
June 25, 2015 // 0 Comments
NCCOEEE Letter by Com. AB Bhardan to Power Minister Dated 21-03-2007
April 21, 2007 // 0 Comments
NCCOEEE Convention at New Delhi
January 21, 2002 // 0 Comments